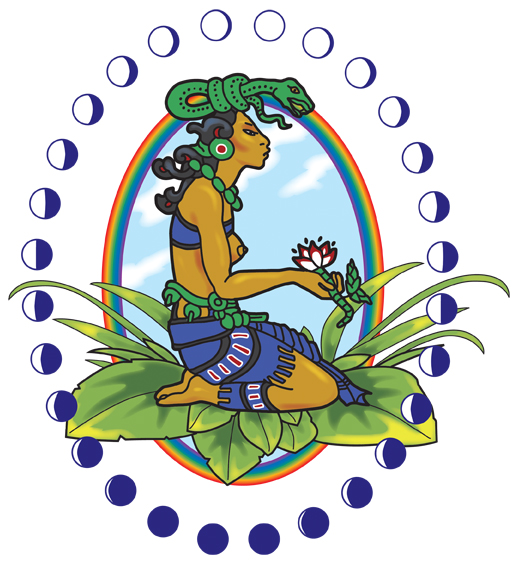 IxChel, Maya Goddess of Healing
The Arvigo Techniques of Maya Abdominal Therapy® is a way of creating better health for the body we live in. Centuries old techniques, brought to the western world by Dr. Rosita Arvigo, are used to help align our organs, increase blood & lymph flow, reduce restrictions around the nervous system and decrease muscular tension which can disturb gastrointestinal and reproductive health.
Oftentimes, 2-3 professional sessions are required to address most conditions. During our time together, you will be taught how to massage your own belly so that you may continue the healing process at home. Those who follow through with home massage are more likely to increase the rate of improvement. Prior to your visit, a detailed intake form will be emailed to you (or mailed if preferred). If you are a female considering this work, sessions are best done between the end of the menses and 5 days prior to the next cycle.
The following are common symptoms and conditions that have been helped by this work:
For Women:
Pre-Conception through Postpartum
Discomforts of Pregnancy
Enhances Pregnancy, Aids in Labor & Birthing
C-Section/Hysterectomy Surgery Recovery
Menstrual Disorders: Painful/Irregular Periods
Displaced or Prolapsed Uterus/Bladder
PMS/Perimenopause/Menopausal Symptoms
Pelvic Organ Congestion: Endometriosis, Cysts, Fibroids
Polycystic Ovarian Syndrome (PCOS)
Chronic Bladder/Yeast Infections
Incontinence
For Everyone:
Digestive Disorders: Crohn's, Irritable Bowel Syndrome, GastroEsophageal Reflux Disease (GERD), Gastritis, Chronic Constipation, Indigestion, Heartburn, etc.
Urinary System: Incontinence, Frequent Urinary Infections, etc.
Muscular Tension, Low Backache
Headaches, Migraines
Restricted Breathing Due to Tension
Low Energy
Varicose Veins
Fertility Enhancement
Post Surgical (Scar Tissue, Recovery)
For Men:
Early Stages of BPH (Benign Prostatic Hyperplasia)
Prostatitis (Mild)
Impotence
Erectile Dysfunction (Depending on cause)
About the founder of The Arvigo Techniques of Maya Abdominal Therapy,® Dr. Rosita Arvigo, DN:
More than 40 years ago, Dr. Rosita Arvigo traveled to Mexico and then to Belize to deepen her studies pertaining to rainforest plant life. There she met and apprenticed with the renowned Maya Shaman, Don Elijio Panti, for 10 years until his passing in 1996 at the age of 103. Through the years studying in these countries, Dr. Arvigo also met and trained with other healers and midwives, in particular Miss Hortence Robinson. Miss Hortence was a well-known herbal midwife, who taught Dr. Arvigo the traditional pregnancy care of Belize.
It is from these two indigenous healers Dr. Rosita Arvigo learned from and in turn, combined her own knowledge of anatomy, physiology and naprapathy (study of muscles, ligaments, connective tissues) formulating and creating the The Arvigo Techniques of Maya Abdominal Therapy®. In 2000, Arvigo Institute, LLC was formed and has trained hundreds of healthcare professionals worldwide. In addition, Dr. Rosita Arvigo established Rainforest Remedies, preserving the ancient herbology of Belize whilst teaching local children the healing properties and value of the herbs which are native to their rainforest. Rosita has worked closely with Dr. Michael Balik of The New York Botanical Garden, studying and documenting the healing properties of over 3,000 rainforest herbs.
For more information, visit: http://www.arvigotherapy.com