Laurie, a licensed massage therapist, with 30+ years experience. The focus of her work is restoring the body, mind, & spirit to a place of remembering.....A place of deeper healing.....A place of balance.......through Restorative Massage, Arvigo® Abdominal Therapy, Bach Flower Remedies and Quantum BioEnergetic Feedback. In depth training for the therapies that Laurie uses, deepens your healing experience. As well, Laurie is a Bach Foundation Registered Practitioner with the Bach Centre in Brightwell-cum-Sotwell, England.
Workshops & Classes: Through her desire to share healing work and empower the human spirit & heart, Laurie continues to present and facilitate workshops to both professionals & laypeople. These workshops are designed to bring healing into your own hands, releasing tension, restrictions, awakening the energies within to help you be the best healer & guide for your life.
Come as you are…my office is open to all who would like to receive this deeply profound and healing therapy. As a practitioner, I have been immersed in hands-on healing for over 3 decades, teaching abdominal massage for the past 10 of these. My practice is client centered, meeting your needs, no matter where you are. I look forward to connecting with you as we delve into the world of healing through sacred abdominal massage, restorative massage, bach flowers, & quantum BioEnergetic feedback.

Passion is present here to bring awareness, change & freedom to live more fully in the body and to lead with the heart.
Miracles are ever-present. One only needs to open the eyes, minds and hearts.
Laurie & Rosita at Villa Rosa, 2019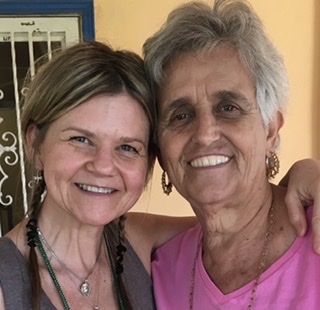 1992 Graduate of Florida School of Massage. Laurie has a background in Craniosacral Therapy, Orthopedic Massage, Advanced Abdominal Therapies, Bach Flower Remedies, and The Arvigo Techniques of Maya Abdominal Therapy®. In the past, she proudly served as New England Regional Coordinator for the Arvigo Institute, LLC, as Vice President for the MAIA board, and has taught advanced level classes for the practitioner and layperson far and wide. Currently, Laurie teaches classes on Belly-Love, Bach Flower Remedies, Arvigo®, and how to best care for your belly and pelvic health.
Philosophy & Thoughts
Humans desire to love and to be loved, to care and to be cared for.
Bring peace into the body and mind, and peace will naturally follow.
How intriguing is the smallest degree of touch which can bring the deepest and most profound of changes within the body, mind, spirit and heart? Touch is the gift we have to offer.
Awaken your connection between mind and belly!
Tap into your innate wisdom within!
The time has come to move inward, more deeply, to reveal what lies within the inner core of body, heart & spirit.
Member of ABMP