Laurie is a licensed massage therapist in both New Hampshire and New York with nearly 30 years of experience at the massage table. The main focus of her work is restoring the body, mind, & spirit to a place of optimum health and balance. In 2015, Laurie became an educator for the Arvigo Institute, LLC, founded by Dr. Rosita Arvigo.
Through the years, Laurie has trained in orthopedic massage, craniosacral therapy, advanced abdominal therapies, plus much more. Laurie maintains a private practice in both NH and NY and compliments her hands-on healing with Flower Essences as a Registered Bach Flower Practitioner. Laurie continues to present and facilitate workshops which surround healing of the body & belly for better balance and better health, optimizing reproductive, digestive and whole body/mind health.
My mission is to bring awareness, kindness, compassion, love and connection to body, mind & belly. And to remind each person that miracles are everywhere!
Laurie & Rosita at Villa Rosa, 2019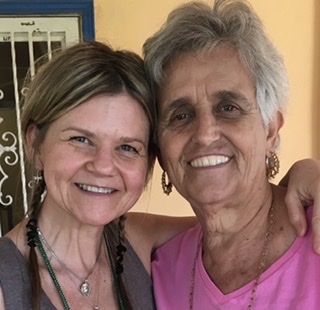 1992 Graduate of Florida School of Massage. Laurie has a background in Craniosacral Therapy, Orthopedic Massage, Advanced Abdominal Therapies, Bach Flower Remedies, and The Arvigo Techniques of Maya Abdominal Therapy®. In the past, she proudly served as New England Regional Coordinator for the Arvigo Institute, LLC, as Vice President for the MAIA board, and has taught advanced level classes for the practitioner and layperson far and wide. Currently, Laurie teaches classes on Belly-Love, Bach Flower Remedies, Arvigo®, and how to best care for your belly and pelvic health.
Philosophy & Thoughts
Humans desire to be nurtured. By bringing peace into the body and mind, peace will flow from the mind and body.
How intriguing is the smallest degree of touch which can bring the deepest and most profound of changes within the body, mind, spirit and heart. Touch is the gift we have to offer to humans and animals alike.
Awaken your connection between mind and belly!
Tap into your innate wisdom within!
Together, let's move inward more deeply to reveal what lies within the inner realm of body, heart & spirit.
Member of ABMP